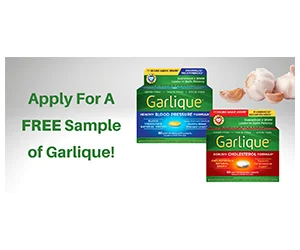 Free Garlique Healthy Blood Pressure Formula Or Healthy Cholesterol Formula Supplements
Specially formulated with clinically supported levels of allicin, the powerful ingredient in garlic, plus a custom blend of Vitamin C, Magnesium, Vitamins B6 & B12, and Folic Acid which help support heart health and healthy blood pressure levels. Fill in the form to receive a free Garlique healthy blood pressure formula or healthy cholesterol formula supplement.
This statement clarifies that Ofree.net is not directly affiliated with the manufacturers, brands, companies, or retailers of the listed products and does not claim ownership of their trademarks, logos, marketing materials, or products. It's a clear declaration of independence from these entities and helps establish transparency.