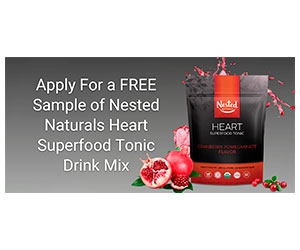 Free Nested Naturals Heart Superfood Tonic
Take a short quiz to request a free Nested Naturals heart superfood tonic! Enjoy a delicious heart-healthy drink mix powered by organic, fermented beets PLUS Reishi and Oyster mushrooms and antioxidant-rich fruit extracts with zero added sugars.
This statement clarifies that Ofree.net is not directly affiliated with the manufacturers, brands, companies, or retailers of the listed products and does not claim ownership of their trademarks, logos, marketing materials, or products. It's a clear declaration of independence from these entities and helps establish transparency.