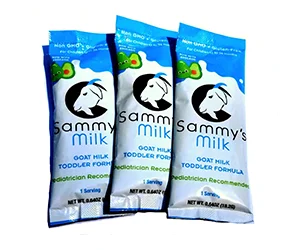 Free Sammy's Milk Goat Milk Toddler Formula x3 Samples
Sammy's Milk offers a wholesome and flavorful option made from organic ingredients, providing a dairy-free, gluten-free, and soy-free alternative that's rich in vitamins and minerals to support healthy growth and development. To get free samples of Sammy's Milk, simply visit the provided link, add the product to your cart, and proceed to checkout.
This statement clarifies that Ofree.net is not directly affiliated with the manufacturers, brands, companies, or retailers of the listed products and does not claim ownership of their trademarks, logos, marketing materials, or products. It's a clear declaration of independence from these entities and helps establish transparency.