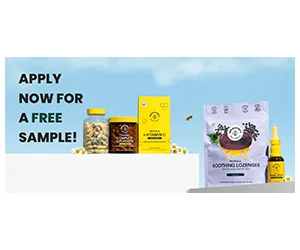 Free Sample Beekeeper's Naturals, Hive-Powered Products
Apply Now For a Chance to Sample Beekeeper's Natural, Hive-Powered Products. Beekeeper's adhere to the highest standards, bringing you offerings crafted from high-quality ingredients like propolis, pollen, and royal jelly—all rigorously tested to ensure purity and efficacy, providing a cleaner and more natural way to maintain your health.
This statement clarifies that Ofree.net is not directly affiliated with the manufacturers, brands, companies, or retailers of the listed products and does not claim ownership of their trademarks, logos, marketing materials, or products. It's a clear declaration of independence from these entities and helps establish transparency.